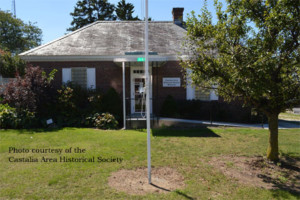 Castalia Area Historical Society Museum
208 Lowell Street, Castalia, Ohio
(419) 684-9710, email: [email protected]
Facebook: Castalia Area Historical Society 
 This is the repository of Castalia area historical information and collectibles such as Blue Hole souvenirs and tufa rock statues. Unfortunately the Blue Hole is privately owned and is not open to the public.
 BOOKS about Castalia's History –
Glenn Kuebler – Castalia, Cold Creek, and the Blue Hole, Arcadia Publishing, 2007.
Margaretta Township and Castalia Village: Past and Present, Cold Creek Girl Scouts, 1876.