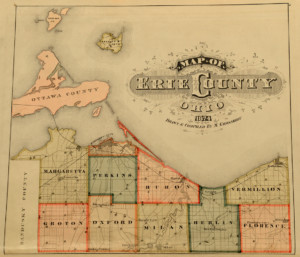 Welcome to the Story of Erie County.
Erie County was officially created by an act of the Ohio Legislature in 1838. It was formed from parts of Sandusky and Huron counties, and it is named for the Erie, a tribe of Native Americans who lived along the south shore of Lake Erie until defeated and scattered by the Iroquois tribes in the 1600s. Including Kelleys Island, it is the second smallest of Ohio's 88 counties in land area, only 252 square miles. With 374 square miles of Lake Erie and Sandusky Bay, the total legal size is 626 sq miles.  Its story is a remarkable one.
The work of the Erie County Historical Society is to tell that story. The story is ongoing, it is written new every day, every month, every year. What we do, think, and say is influenced by what came before us, even if we do not always acknowledge it, or even know it. How we think about the past—what we choose to celebrate and what we choose to ignore—changes as well. History, including local history, is far from settled and is constantly changing as new information is unearthed and new filters are used to interpret what came before us. History really is alive.
Traditionally, the Erie County Historical Society has focused on lecture programs and historical markers to tell the county's story. This website is an attempt to add new storytelling tools to the effort. We hope visitors to our site will take the opportunity to travel back in time on one of our three historic walking tours. There is an opportunity to walk directly in the footsteps of African-American slaves as they attempted to escape to Canada and freedom. You can walk the streets of Downtown Sandusky and sit in a coffee house that was originally built to show silent movies in the first decades of the 20th century.
We believe knowing and understanding something of the past gives a new level of appreciation to everyday life.
Erie County's most recent natural history is the creation of Lake Erie. As the great glaciers of the Pleistocene age receded, they left a gift: the Great Lakes. Lake Erie was the last to be created, approximately 10,000 years ago.
Erie County was home to a variety of Native American peoples, stretching back thousands of years to the birth of Lake Erie. As the great glaciers receded, people moved north with the advancing warmth.
Lake Erie has been the lodestar for Erie County for a very long time, influencing its history in major ways.
Lake Erie was the last of the Great Lakes to be discovered by Europeans. Although its existence was long rumored, it was not visited until 1669 by the French explorer, Louis Joliet.
French Canadian trappers and traders were the first European settlers in the area in the mid and late 1700s. Next came families from New England and New York in the years before and after the War of 1812. The war opened northwest Ohio to settlement and it quickly grew. German and Irish immigrants to Erie County arrived in waves in the 1840s and 1850s (in the 1860 census 14% of the male population was foreign born), and Italian and eastern Europeans followed in the late 1800s and early 1900s. African-Americans moved to Sandusky in large numbers during and after World War II seeking work in war industries.
Erie County's economy has been dominated by three major industries: agriculture, manufacturing, and tourism. Agriculture has been a constant since frontier days and is a rich part of our heritage. Western Erie County is on the eastern edge of the Great Black Swamp and is some of the richest farmland in the United States. Manufacturing blossomed in the decades after the Civil War and large scale manufacturing peaked in the 1960s and 1970s. Tourism began in the mid-1800s as lake steamers used Sandusky as a home port to bring visitors to the Lake Erie islands. Cedar Point dates its beginning as a resort and amusement park to 1870. Today it is one of the largest parks in the world and attracts millions of visitors annually.
Along with the constants like agriculture, manufacturing, and tourism, there are industries like commercial fishing, steamship building, ice harvesting, and crayon and corrugated box manufacturing which once flourished in Erie County but are now gone.
The men who invented the electric light bulb and who financed the Union war effort during the Civil War, Thomas A. Edison and Jay Cooke, respectively, were born in Erie County, as were many other men and women who have accomplished great things and have played a role in America's story.