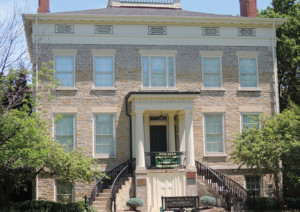 MUSEUMS AND HISTORIC SITES
There are so many museums and historic sites in and around Erie County. Each museum offers a unique look at the history of its community. Some museums are slick and upscale, others are grass roots and folksy. Some have large equipment on display while others have small intimate artifacts. Many have gift shops. All in all, a really remarkable collection of local history.
Be sure to explore each museum's website and Facebook page for hours, news and special exhibits, as well as a little some wonderfully obscure tidbits about the history of each community.
Another great source for history are the various libraries which often have a section on local history as well as collections of historic artifacts.
While our focus is Erie County, we are including some important museums in adjacent areas as many of our Erie County communities overlap other counties. We figured since you are already there, we would include some of those nearby museums and historic sites. This is certainly not a comprehensive list.

Be sure to browse the Sandusky Library's BLOGSPOT. They have been blogging since 2006 and there are hundreds of articles about the people, places and things around Erie County. Scroll down to see the posts sorted by year and also by subject. You will be amazed at what you will discover about our historic county.
ERIE COUNTY
Bellevue (Bellevue Historical Society, Mad River and Nickle Plate Railroad Museum, Historic Lyme Village, National Postmark Collectors Museum & Research Center)
Berlin Hts (Berlin Hts. Historical Society)
Castalia (Castalia Area Historical Society Museum includes the Blue Hole)
Cedar Point (Cedar Point Lighthouse, Cedar Point Town Hall Museum)
Huron (Huron Historical Society)
Kelleys Island (Kelleys Island Historical Assoc. Museum)
Milan (Milan Museum, Edison Birthplace)
Sandusky (Cooke-Dorn House Historic Site, Follett House Museum, Maritime Museum of Sandusky, Merry-Go-Round Museum, Ohio Veterans Home Museum, Old House Guild of Sandusky)
Vermilion (Vermilion Historical Society, Vermilion Area Archival Society)
GENEALOGY – The Erie County Chapter of the Ohio Genealogical Society is no longer an active chapter. As a result, the Huron County Chapter OGS has changed their name to the Firelands Genealogical Society and is adding Erie County to their group. It is now dedicated to furthering quality genealogical and family history research in Huron and Erie Counties. https://www.facebook.com/huroncoogs
HURON COUNTY
Norwalk (Firelands Historical Society Museum & Library)
OTTAWA COUNTY
Catawba Island (Catawba Island Historical Society)
Johnson's Island (Johnson's Island Confederate Officers Prison Cemetery, Friends and Descendants of Johnson's Island Confederate Prison, Ohio Veterans Home-Museum)
Lakeside-Marblehead (The Keeper's House, Marblehead Lighthouse, Marblehead Lighthouse Historical Society Museum, Lakeside Heritage Society Museum & Archives Center,)
Port Clinton (Ottawa County Historical Museum, Liberty Aviation Museum)
Put-in-Bay (South Bass Island Lighthouse, Perry's Victory & International Peace Memorial, Lake Erie Island Historical Society Museum, Cooke Castle, Joseph DeRivera St. Jurgo Park)
SANDUSKY COUNTY
Clyde (General James B. McPherson Home & Clyde Historical Museum)
Fremont (Rutherford B. Hayes Presidential Library & Museums, Sandusky County Historical Society)