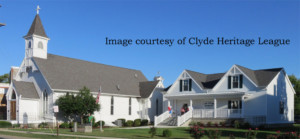 CLYDE
Clyde Museum & General James B. McPherson Home
124 West Buckeye Street, P O Box 97, Clyde OH 43410
(419) 547-7946
[email protected]
www.ClydeMuseum.org
Facebook: Clyde Museum and General McPherson House
The Clyde Museum features a unique historical collection such as transportation, Native American artifacts, church history, education, pioneer to industrial era objects, and an interesting collection about war heroes and other famous people from the Clyde area, including Sherwood Anderson, the author and Civil War general James McPherson, the highest ranking U.S. officer killed in the Civil War. The Clyde Heritage League built a garage annex in the early 1990s to house the 1920 Clydesdale fire truck, 1926 Ford Model T fire truck, and the 1904 Elmore Car.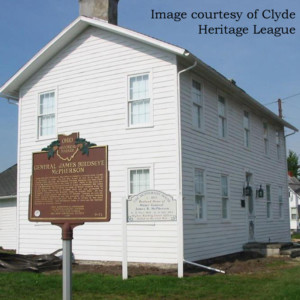 The McPherson family home was the boyhood home of General James Birdseye McPherson, the highest senior ranking officer killed in the US Civil War. The home was built and completed in circa 1834 by James L. Gillien and Solaman Gould. William McPherson, father of James B. McPherson bought this home in 1835. Young James lived in this home from age 7 through 13 years of age. In 1841, due to a reverse in family fortune, Young James had to move from the home to Stemtown (Green Springs, Ohio) to live with the Smith family to work in their mercantile.
James B. McPherson eventually attended West Point, graduating in 1853 at the top of his class, and would later die in the Civil War at the Battle of Atlanta. The home remained in the McPherson family until a month after the general's death in 1864, at which time it was sold. It then passed down through a series of five families until it was donated to the Clyde Heritage League in 1995. The house was lived in until the early 1970s. It was placed on the National Register of Historic Places in 1974, and eventually received a historical marker from the Ohio Historical Society Marker program.
The house is located on the corner of Maple Street and McPherson Highway, and is available to tour by appointment only. The house opens to the public only a few times a year, mainly on Memorial Day and the Saturday of Winesburg Weekend in November of every year. For a tour, please call 419-547-7946 and leave a message.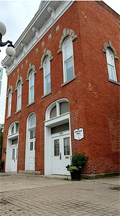 Heritage Hall was built in 1882 and once housed the Clyde Fire Department and police station, in addition to the Clyde City Council and Mayor's office. Heritage Hall was acquired by the Clyde Heritage League, of which Thaddeus B. Hurd was the driving force behind the acquisition of the building. The CHL is dedicated to maintaining the historical outward integrity and appearance of the building. The building is now the home of the Clyde Life Enrichment Center for disabled adults.
Of Additional Interest:
On Facebook, check out Vintage Clyde https://www.facebook.com/groups/504847112965824/
The Clyde Public Library is pleased to collaborate with the Ohio Historical Society to present this digital archive of Clyde, Ohio, history. This database is sustained by the Library's Thaddeus B. Hurd Endowment Fund. Thaddeus Baker Hurd, 1903 – 1989, architect and son of local grocer Hiram Hurd, was a founding member of the Clyde Heritage League in 1975 and organized the Clyde Senior Center in 1980. He organized the genealogical division of the Sandusky County Historical Society in 1967, and was a member of many area historical organizations. Mr. Hurd's foresight in establishing this generous endowment fund represents his lifelong regard for our community's history and genealogy. Since the fall of 2009 the Library has been scanning pictures, catalogs, directories, advertisements, programs, and other ephemera that are important to the history of Clyde.
The Library would like to thank the following for allowing us to digitize items from their own collections: The Sandusky Register, The Clyde Enterprise, The Clyde Heritage League, The First United Methodist Church, St. Mary's Catholic Church, Lee Capucini, Dorothy Cox, Bob Foos, Robert Lorenz, Randy Dick, Flo Ebersole, Lynn Monday, Paula Renfro, John Sanford, Harry Sargeant, James Semon, Cheri Sibthorp Taylor, and Lynda Wilbert. Please contact the Library at 419-547-7174 with comments, questions and suggestions.  Clyde Public Library – Ohio Memory