PORT CLINTON & PARTS OF OTTAWA COUNTY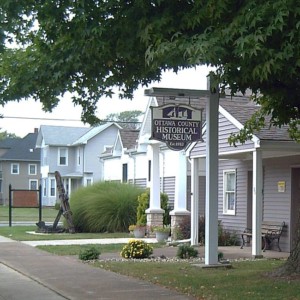 OTTAWA COUNTY HISTORICAL ASSOCIATION
126 W. Third Street, Port Clinton H 43452
(419) 732-2237
Email: [email protected]
www.ottawacountymuseum.org
Facebook: Ottawa County Museum
Operated by the Ottawa County Historical Society, the museum's collections include Native American artifacts, exhibits on Camp Perry and WWII prisoner of war camp, Matthews Boat Company, Ford Tri-Motor, commercial fishing industry.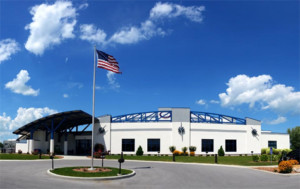 LIBERTY AVIATION MUSEUM
3515 E. State Street, Port Clinton
(419) 732-0234
www.libertyaviationmuseum.org
Facebook: Liberty Aviation Museum
[email protected]
Opened in 2012, the Liberty Aviation Museum showcases a number of operational, historical aircraft and vehicles, including "Georgie's Gal," a World War II B-25 Mitchell bomber, a U.S. Navy WWII TBM Avenger, a PT boat, and more. The museum is currently restoring a 1929 Ford Tri-Motor aircraft. The unique history of the Ford Tri-Motor and its role in the history of the Lake Erie Islands is featured in several exhibits. The new hangar expansion is now open . Hangar 2, the boathouse, and the WWII gallery are located a short walk or drive from our main building.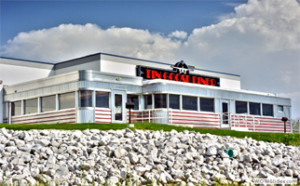 THE TIN GOOSE DINER
3515 E. State Road, Port Clinton OH 43452
419-732-0236
Facebook: Tin Goose Diner
www.tingoosediner.com
Not to be missed, an original vintage 1950s diner, The Tin Goose Diner.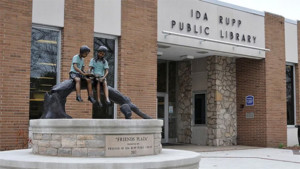 THE IDA RUPP LIBRARY
310 Madison St.
Port Clinton OH 43452
419-732-3212
https://www.idarupp.org/ 
Facebook: https://www.facebook.com/IdaRupp/
Not just a library, but a great resources for Genealogy and Local History which overlaps Erie Co.'s Kelleys Island area.
Location information on these historic markers, and others in Ottawa County, go to RemarkableOhio.org.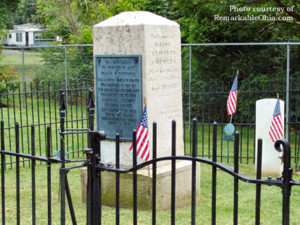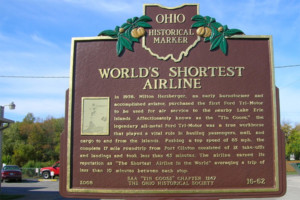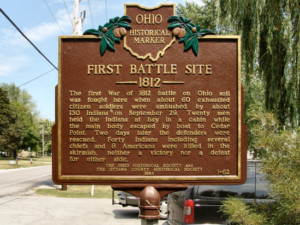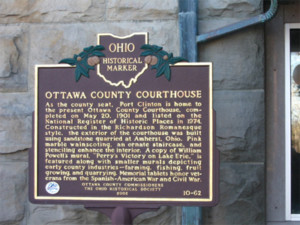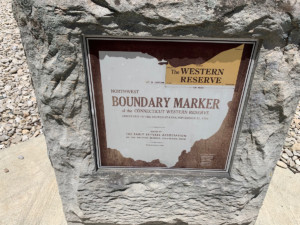 This photo is of a marker in the State Park on Catawba Island.
The Northwestern Boundary of the Firelands is particularly relevant because  Danbury Township was in the Firelands and Huron County from 1809 until 1838 and of Erie County from 1838 to 1840.