DOWNTOWN SANDUSKY HISTORIC WALKING TOUR
Welcome to the Erie County Historical Society's Downtown Sandusky Historic Walking Tour. We hope you enjoy our efforts to acquaint residents and visitors with the rich history of Erie County through hosting lectures, walking tours and erecting historical markers.
This is one of our most popular tours. It takes you right down Columbus Avenue downtown and covers most, but certainly not all, of the historic buildings on Columbus Ave. and the cross streets. Before you start your tour, you can Click HERE for an overview of the City of Sandusky's rich history. Then start walking or just take the tour from the comfort of your own home.
Note – This list contains a very brief description of what exists today as well as what was on a particular site in the past. There is much more information on each site, organized by street, which you can read by clicking READ MORE on each building or site.
Did you know that Sandusky has more limestone buildings than any town in Ohio, and possibly in the nation? In 1978, a list of 88 historic buildings were submitted for consideration on the National Register of Historic Places. Most them were accepted on the spot and the balance required additional information. currently there are 114 properties listed on the National Register of Historic Places. You can explore that list HERE.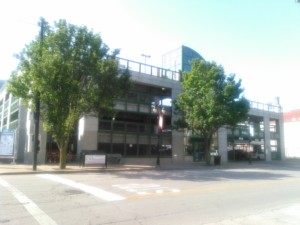 Getting here and getting started on the tour
Park in the Erie County Parking Garage – the entrance is just off Columbus Ave on W. Market St. Exit the Garage and go to Columbus Ave., the tour will start just a short walk up the hill. You will walk down Columbus St. to the Lake, taking in the cross streets as you go.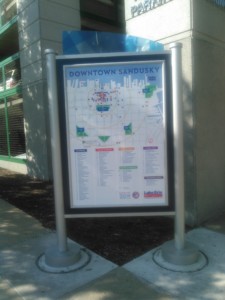 START THE TOUR ON COLUMBUS AVE.
Take a minute to familiar yourself with downtown Sandusky with the handy map right on the corner of Columbus and W. Market.
Walk up the hill until you get to the big stone courthouse. Turn around – this is where the tour starts. You will walk down Columbus St. to the Lake, looking down each the cross street as you go or choose to explore the cross streets: Washington Row, Market St., Water St., and Shoreline Drive/the piers/Jackson St.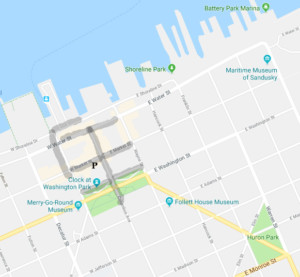 CLICK HERE FOR THE COLUMBUS AVE. WALK
CLICK HERE FOR THE WASHINGTON ROW WALK
CLICK HERE FOR THE MARKET STREET WALK
CLICK HERE FOR THE WATER STREET WALK
CLICK HERE FOR THE SHORELINE DRIVE/PIERS/JACKSON ST. WALK
 Enjoy!